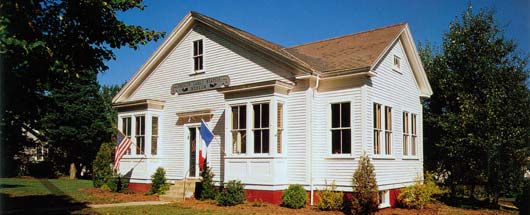 Free guided tours are available of an historic collection of original Atlantic undersea telegraphic cables, instruments, maps, and assorted memorabilia.
The station is part of American History. During World War I, General Pershing in France communicated with the US Government through this cable station.
In 1927 the message that Charles Lindbergh had landed in Paris came through this station from Paris. It was then sent to the rest of the United States.
Come and see history.
Open June through Sept. Fri. Sat. Sun. 1:00 PM to 4:00 PM

Closed for the season, open next June
SARA PEAKE VISITS MUSEUM On Friday October 11 Sarah Peake, State Representative from 4th Barnstable District,
visited the French Cable Station Museum in Orleans, MA. She had been invited to visit
the museum during her visit to Orleans by Joe Manas, President of the museum.
She was given a brief tour of the museum by Joe and Board member, Duane Chase.
She was impressed by the history,technology and equipment at the museum.
While at the museum she had the opportunity to meet Meri and Dave Hartford
who were working on an archiving project funded by
the Town of Orleans Community Preservation Act.
Sarah thought the project was very exciting. She was particularly interested in the
digitizing of the documents to make them available for future generations.


| | |
| --- | --- |
| | |
| Joe Manas, Sarah Peake, Duane Chase | Duane Chase, Sarah Peake, Joe Manas |

MEMBERSHIP
Memberships help us maintain and operate the museum. Will you become a member!! Go to the supporter page of theis website.

ORLEANS COMMUNITY PRESERVATION COMMITTEE GRANT
The museum has been awarded a grant from the Town of Orleans Community Preservation Committee.
The grant will be used in a three part project.
1. Identify, photograph, and create a digital database of the artifacts within the museum.
2. Scan and preserve documents of clear historic value.
3. Survey and repair/restore equipment to working order.
Current status of project:
Work has been started on part 1.
Orleans CPC Grant Article
| | |
| --- | --- |
| | |
| Storage Reel of Cable | Double Key Transmitter |